En marca
In the press conference following Brazil's victory over Serbia on Thursday, Tite assured that Neymar will continue in the World Cup, after he came on as a substitute in the 80th minute and upon arriving at the bench covered his face with his shirt and burst into tears while being attended to by the national team's doctors.
Ney was the target of the Serbian defense throughout the match, as he received nine of the 12 fouls called against Brazil, including a sweep by defender Nikola Milenkovic, who was not even cautioned and, in a reckless sweep, went wide and bent the PSG forward's right ankle with his knee in a nasty way.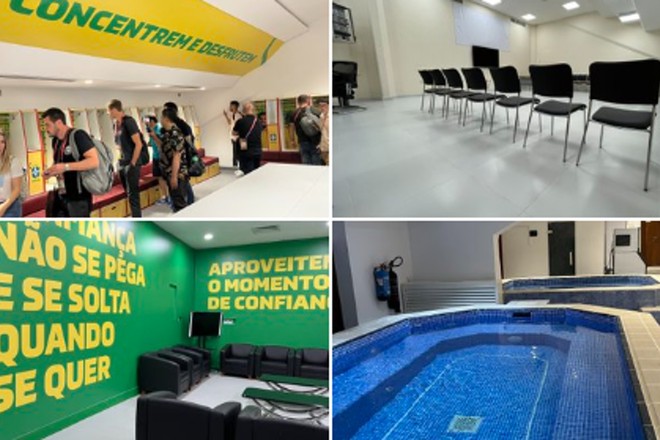 Brazil's home in Qatar, uncovered: this is where Neymar, vincius and Co will live and train
MARTA GARCÍA
Brazil's #10 immediately complained about his right ankle and the medical staff ordered him to leave the field without studs and socks.
Tite's optimism about Neymar's state of health
"He's going to continue in the World Cup, you can have that certainty. He felt the pain during the game, but decided to continue. It should be highlighted," Tite said.
However, the doctor of the 'Verdeamarelha', Rodrigo Lasmar, asked for 24 hours to see the evolution of Neymar's ankle and then be able to give a more accurate diagnosis: "We must be calm, it is early to say anything."
What is known so far about Neymar's health?
At the end of the match, Neymar limped out of the mixed zone, with a swollen ankle, although walking on his own feet, with some difficulty. The preliminary diagnosis points to a sprain, which could effectively keep him out.
"We put ice on it and already started treatment. We are waiting 24/48 hours to have a clearer idea of the situation. He will continue with physiotherapy," the doctor informed. "If there are any new developments, we will report them. Everything will be decided as of tomorrow when we see his evolution. The expectation is for observation. Anything we say is premature and I don't have a definitive answer to give."
For his part, Vinicius Jr. conveyed reassurance about his teammate's health in an interview with TyC Sports: "Neymar is fine. He is a little sad about the blow, but tomorrow morning he will be happy and happy to recover as quickly as possible for the ma…