GiveMeSport Football
Once you have subscribed we will use the email you provided to send you the newsletter. You can unsubscribe at any time by clicking the unsubscribe link at the bottom of the newsletter email.
Team of the Season (TOTS) is well underway now in FIFA 22 Ultimate Team, and with the Serie A being the next squad to hit our screens this coming Friday – predictions have been circulating as to who will be involved.
The Serie A has been a thrilling league to watch this year. The title was decided on the last day of the season when AC Milan conquered Sassuolo in their backyard, which gave them their first Serie A title in 11 years.
A thrilling league always possesses thrilling players which Serie A have packed in abundance. The likes of Paulo Dybala, Lorenzo Insigne and veteran Swede Zlatan Ibrahimovic make up just a few of the star-studded names, but who will be featuring in this year's Serie A TOTS?
So with this, let's take a look at who may be featuring in the Serie A TOTS side.
Read More: FIFA 22 Team of the Season: Premier League/EFL TOTS Squads, TOTS Swaps, Leaks and More
Serie A TOTS Predictions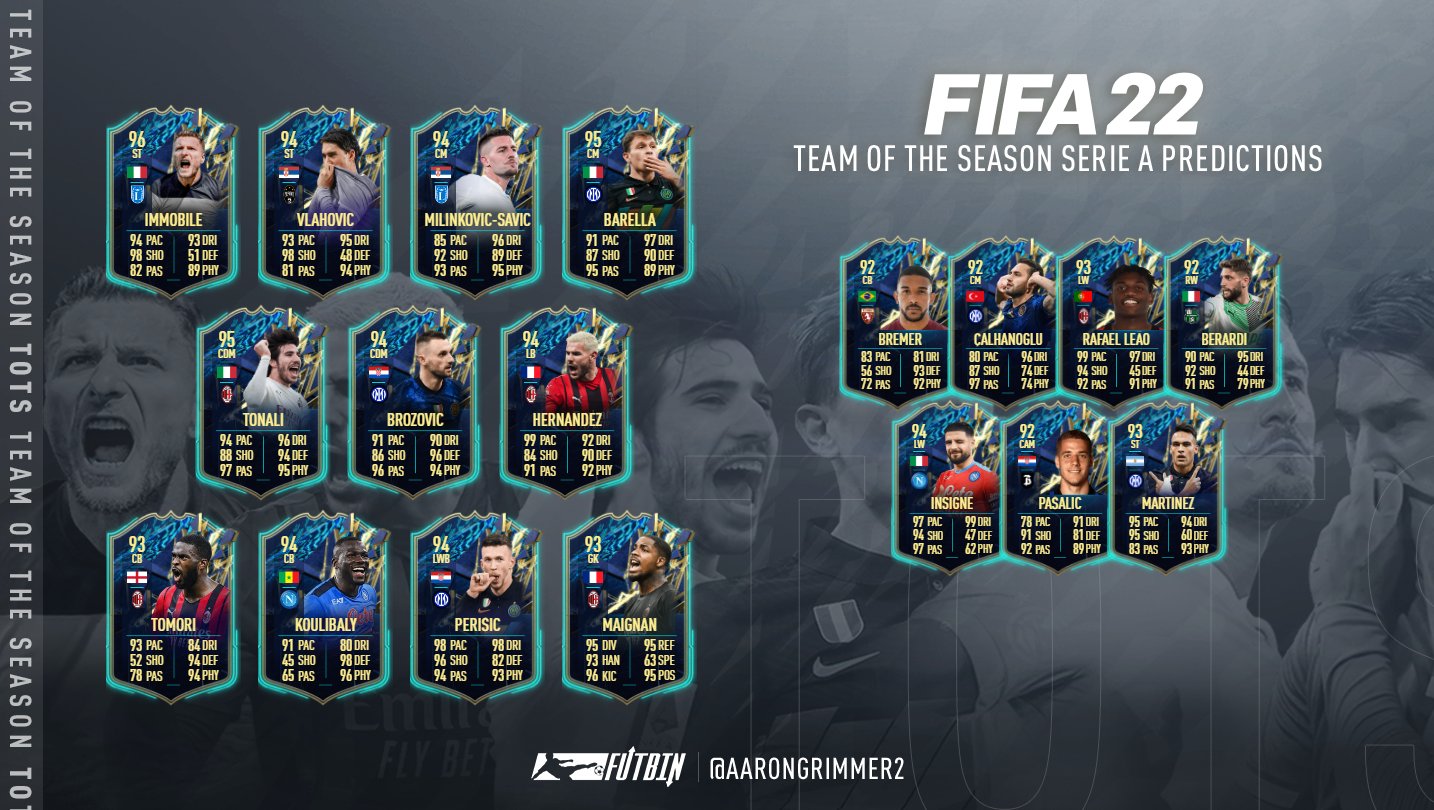 Credit: FUTBIN/AARONGRIMMER2
Courtesy of FUTBIN – here is the Serie A TOTS predicted side. Some insane looking cards here. Let's take a look at the full squad below.
Ciro Immobile – SS Lazio
Dusan Vlahovic – Juventus
Sergej Milinkovic-Savic – SS Lazio
Nicolo Barella – Inter Milan
Sandro Tonali – AC Milan
Marcelo Brozovic – Inter Milan
Theo Hernandez – AC Milan
Fikayo Tomori – AC Milan
Kalidou Koulibaly – Napoli
Ivan Perisic – Inter Milan
Mike Maignan – AC Milan
Bremer – Torino
Hakan Calhanoglu – Inter Milan
Rafael Leao – AC Milan
Domenico Berardi – Sassuolo
Lorenzo Insigne – Napoli
Mario Pasalic – Atalanta
Lautaro Martinez – Inter Milan
Now, remember – these are merely predictions and no player on this list is by any means confirmed to feature, however judging by the seasons some of them have had, we wouldn't be surprised to be seeing them hit our screens this Friday.
Let's take a look at some of the stand out names in this predicted side.
Dusan Vlahovic
TURIN, ITALY – APRIL 16: Dusan Vlahovic of Juventus celebrates scoring their side's first goal during the Serie A match between Juventus and Bologna FC at Allianz Stadium on April 16, 2022, in Turin, Italy. (Photo by Valerio Pennicino/Getty Images)
The young Serbian has gone from strength to strength this season. After a move to Italian giants Juventus in the January transfer window, the striker has now accumulated 29 goals in 45 games during his time at both teams. Remarkable for a 22-year old.
Theo Hernandez
MILAN, ITALY – MAY 01: Theo Hernandez of A.C. Milan celebrates after scoring their side's second goal during the Serie A match between AC Milan and Benevento Calcio at Stadio Giuseppe Meazza on May 01, 2021, in Milan, Italy. Sporting stadiums around Italy remain under strict restrictions due to the Coronavirus Pandemic as Government social distancing laws prohibit fans inside venues resulting in games being played behind closed doors. (Photo by Marco Luzzani/Getty Images)
One that will be a popular choice in FIFA 22. Theo Hernandez has cemented himself as one of the world's best full-backs this campaign. The pacey Frenchman won his first ever league title this season …