En marca
Barcelona vs Real Madrid: How many Spanish Super Cups do the two teams have?
Barcelona vs Real Madrid: How many Spanish Super Cups do the two teams have? Twitter (@RFEF)
Barcelona and Real Madrid will play for the Spanish Super Cup this Sunday, at the King Fahd Stadium in Riyadh, Saudi Arabia.
Both teams are not only the most popular and most followed teams in Spanish football, and they also have the most titles in this tournament.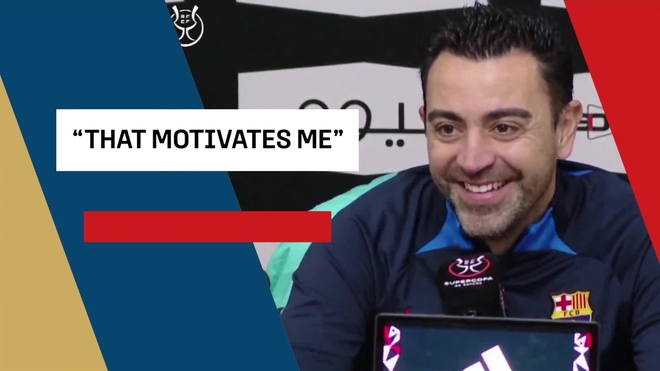 Xavi 'motivated' to end Real Madrid's dominance in Spanish Super Cup
LAPRESSE
Their domination of LaLiga Santander and the Copa del Rey means that both have had the opportunity to get their hands on the Spanish Super Cup many times.
How many Spanish Super Cup titles do Real Madrid and Barcelona have?
Barcelona are the most prolific Spanish Super Cup winner with 13 titles, closely followed by Real Madrid with 12.
That record means that the team from the capital will be looking to catch up with the Blaugranas on Sunday and draw level on 13 trophies each.
Real Madrid and Barcelona's total domination of the Spanish Super Cup
Barcelona's 13 titles were won in 1983, 1991, 1992, 1994, 1996, 1996, 2005, 2006, 2009, 2010, 2011, 2013, 2016 and 2018.
Real Madrid, defending champions of the Super Cup this year, have won in 1988, 1989, 1990, 1993, 1993, 1997, 2001, 2001, 2003, 2003, 2008, 2012, 2017, 2020 and 2022.
The dominance of these two teams stands out from the rest of the Spanish teams, as the teams that come closest to them are Deportivo La Coruna and Athletic Club, with just three Super Cup titles each.
The tournament was first played in 1982, and won in that year by Real Sociedad with a 4-0 win over Real Madrid.
New format of the Spanish Super Cup
Since 2020, the format for the Super Cup finalists is as follows: the top two finishers in the overall standings in LaLiga Santander face the two finalists of the Copa del Rey.
The LaLiga Santander champion plays in a semi-final against the runner-up from the Copa del Rey, while the second-placed team from the reg…